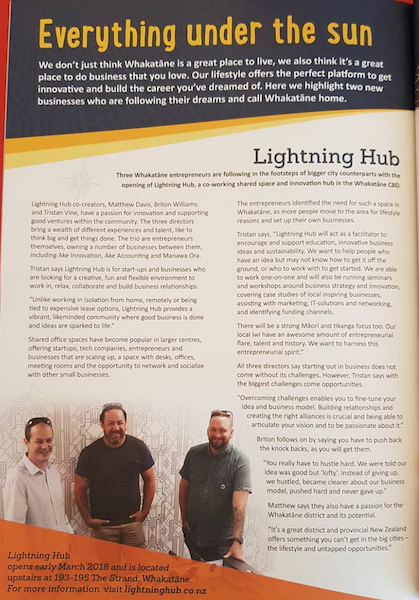 First Published: February 2018 Plenty Issue 10
Three Whakatāne entrepreneurs are following in the footsteps of bigger city counterparts with the opening of Lightning Hub, a co-working shared space and innovation hub in the Whakatane CBD.
Lightning Hub co-creators Matthew Davis, Briton Williams, and Tristan Vine have a passion for innovation and supporting good ventures within the community. The three directors bring a wealth of different experiences and talent, like to think big and get things done. The trio are entrepreneurs themselves, owning a number of businesses between them, including Ake Innovation, Ake Accounting, and Manawa Ora.
Tristan says Lightning Hub is for start-ups and businesses who are looking for a creative, fun and flexible environment to work in, relax, collaborate and build business relationships.
"Unlike working in isolation from home, remotely or being tied to expensive lease options, Lightning Hub provides a vibrant like-minded community where good business is done and ideas are sparked to life."
Shared office spaces have become popular in larger centres, offering startups, tech companies, entrepreneurs and businesses that are scaling up, a space with decks offices, meeting rooms and the opportunity to network and socialise with other small businesses.
The entrepreneurs identified the need for such a space in Whakatane, as more people move to the area for lifestyle reasons and set up their own businesses.
Tristain says, "Lightning Hub will act as a facilitator and support education, innovative business ideas and sustainability. We want to help people who have an idea that may not know how to get it off the ground, or who to work with to get started. We are able to work one-on-one and will also be running seminars and workshops around business strategy and innovation, covering case studies of local inspiring businesses, assisting with marketing, IT-solutions and networking, and identifying funding channels.
There will be strong Māori and tikanga focus too. Our local iwi has an awesome amount of entrepreneurial flair, talent, and history. We want to harness this entrepreneurial spirit."
All three directors say starting out in business does not come with his without its challenges. However, Tristan says with the biggest challenges come opportunities.
"Overcoming challenges enables you to fine-tune your idea and business model. Building relationships and creating the right alliances is crucial and being able to articulate your vision and be passionate about it."
Briton follows on by saying that you have to push back the knockbacks, as you will get them.
"You really have to hustle hard. We were told our idea was good but 'lofty'. Instead of giving up we hustled, became clearer about our business model, pushed hard and never gave up.
Matthew says they also have a passion for the Whakatāne district and it's potential. "It's a great district and provincial New Zealand offers something you can't get in the big city – the lifestyle and untapped opportunities.
Lightning opens early March 2018 and is located upstairs at 193-195 Strand Whakatane for more information visit lightninghub.co.nz