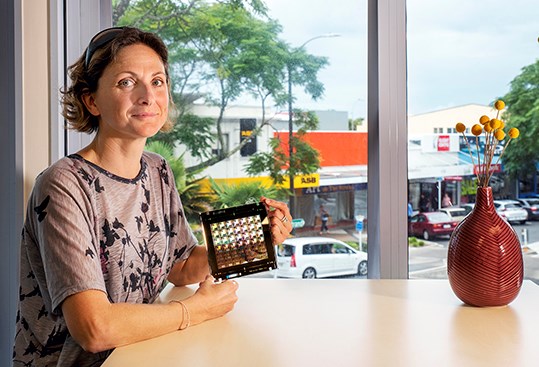 Once a self-described hooligan teenager, Whakatane resident and integrated circuit layout engineer Clare Marie Scammell now designs microchips to be used in high-end graphics displays. Operating out of Lightning Hub, Whakatane's innovation centre, Mrs Scammell works with technology so tiny and leading-edge, she cannot describe the process of one of her projects in detail.
"It is for graphic displays, mainly for new markets like bio-medical screening and things like that. But it can be for gaming computers and high-end graphic chips," she said.
She began her career in digital technology at a company that started out of the owner's garage.
"I managed to get an apprenticeship with a huge company called ARM – well they were only little then," she said.
The company is now the world's leading semiconductor intellectual property company, with its technologies reaching 80 percent of the global population. She then went on to several other companies around Cambridge's Silicon Fen – the United Kingdom's version of Silicon Valley.
"I gradually made my way up to senior engineer through those companies," she said.
She eventually made her way to New Zealand and became a helicopter pilot. "I was a commercial pilot for a few years at Frontier," she said. However, life changes brought about a re-evaluation of careers.
"Having a young family is just not conducive to being a pilot and juggling everything," she said. "I looked at ways of earning my own money and ended up contracting."
She went back and forth between Britain and New Zealand for a while until landing work with her current clients.
"Then I managed to rope-in some remote contracts, so I was working back in Whakatane for these large companies," she said. "I'm designing microchips that go in all kinds of handsets and near-field communications like (smartcards). Anything that you can swipe."
She deals with some of the industry's smallest and most promising microchip tech. "At the moment it's 28 nanometre technology for me. But it can go down to 7nm technology for some high-end chips," she said.
For context, she explained that it takes approximately 450 transistors sandwiched together to reach the thickness of an average human hair.
She said the microchip industry had become more software driven as the size barrier became more of an issue. There is also a mix of digital and analogue technology taking place. "The chip I'm currently working on is three-quarters digital and the rest is analogue. The analogue is hand-crafted," she said. "It's kind of cool looking at the images that are coming out of these new designs."
She said the consumer market was nearing the pinnacle of current technology but the next generation could change that.
"There's a lot more we can do in industry. It's about automating, especially in the safety side of things. A lot of industries can rework what they already have to be smarter, more efficient and have better imaging," she said.
"There are physical limitations, but we just need time to work through them."