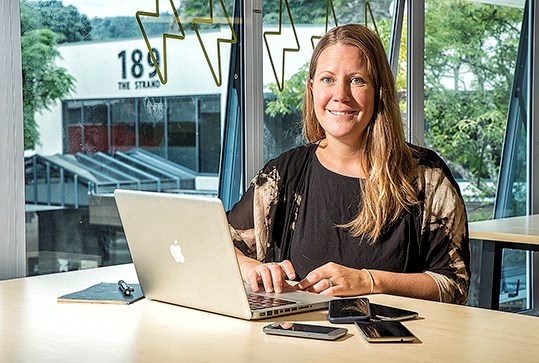 As consumer products and services become progressively diverse and the competition to reach customers more complex, marketing is increasingly a necessary ingredient for success.
Creative Director at Stellar Creative Marketing Cherie Stevenson said more high-concept marketing was happening in the region but at a lesser degree than the level of business allowed.
"There is a lot of traditional advertising that still happens. I think the level of sophistication is there but only a few people are doing it," she said.
Mrs Stevenson came to Whakatane from a marketing career in Auckland a year ago to escape the rat race.
"I had been working in advertising with some big marketing agencies and I just couldn't go back to those full time since I had my little girl," she said.
"So I started working from home."
But as her workload increased, a home office was no longer feasible.
"I thought 'I need my own space, I need that distance'. I had my own office in town for a while," she said.
When she heard Lightning Hub, Whakatane's new innovation centre, was opening she realised working with other professionals would provide the kind of interaction that would breed new ideas.
"Because I had worked in really high-energy firms there was always something going on and someone to talk to. You are upskilling all the time," she said.
"You can sit at home with your ideas. But someone saying 'oh, that's cool' or I'm excited about that' really makes a big difference. You need someone saying 'yes' and 'I can help you'. There is a lot of potential here for that to happen."
She said for marketing strategies to reach their full potential, businesspeople had to use every tool available.
"Small businesses have limited budgets and they might need someone to do the website and someone to take care of social media," she said.
"Social media is where it is but if you do just that you miss a lot of the people in town so you have to have that balance."
She said the foundations of modern marketing was still an equal mix of salesmanship and psychology and various media are best-suited for each aspect.
"The social media really plays into that psychology aspect," she said.
She said the strategy of using end-of-season sales had limited success in attracting new customers. The contemporary consumer wanted to have a feeling of familiarity with the people they did business with.
"You have to have really interesting content. It's not about the name of the business but who is running it and what their story is," she said.
As part of her work, Mrs Stevenson will provide a voice for the new generation of businesspeople at Lightning Hub as well as those who are established in the community.
"There will be a lot of little stories of people doing awesome things here," she said.